DP Medical Systems is celebrating after achieving a record high turnover during 2018.
The Surrey-based organisation continued its development recording double digit growth for the third consecutive year. In addition, each division of the company including dental, hospital and services, has grown substantially over the period.
Rob Atkinson, managing director of DP Medical, said: "We're delighted to have achieved such strong figures in 2018 which is testament to the hard work and dedication of our whole team.
"The last twelve months has seen some really exciting advancements for us including our second commitment deal with the NHS Supply Chain which allows us to offer our KAPS Microscopes and Colposcopes to all NHS trusts at a discounted rate with immediate delivery. This helps hospitals, not only from a cost perspective, but also in time as they can have the scopes installed immediately, as opposed to an average six-eight week lead time. NHS Supply Chain plays a huge part in the NHS purchasing routes and we are really pleased our partnership with them continues to grow.
"In addition, our XION product range continues to grow its market share within the ENT sector which has been a major part of our success over the last year. And our decision in 2017 to remove loupes from our dental range has allowed our sales team to focus on the market leading Global Microscope which has resulted in increased sales across the UK.
"We're really excited to announce that due to these developments we will be expanding our team early this year within our software department, and following increased sales in Ireland, we will also be appointing a service engineer to cover that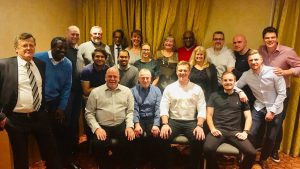 area of our market.
"2019 is all set to be another good year for us as we look to increase our staff numbers and build on the exceptional service we're known for."
DP Medical Systems, which employs 23 people, sells ENT, dental, gynaecology and forensic medical equipment to the NHS and private users.