This summer DP Medical's Owen Pemberton will take part in the Prudential RideLondon cycling event, taking on the 100 mile course to raise money for the charity CLEFT.
Owen is supporting CLEFT after working with Great Ormond Street Hospital and key consultants including Honorary Consultant Plastic Surgeon, Brian Sommerlad who is also the Chair of CLEFT, through his role with DP Medical.
A cleft is a birth defect which can leave children suffering from speech and hearing problems. There may be a cleft (split) just of the lip, just of the palate, or both. They can be one-sided (unilateral) or double-sided (bilateral).
Owen said: "I became aware of the charity through my work and learned of the worthwhile projects that CLEFT run throughout the world.
"Having had the benefit of meeting some of the amazing consultants, such as Brian, who donate their own time and expertise to help those who don't have access to the medical care for their conditions, I felt empowered to help raise funds for these projects.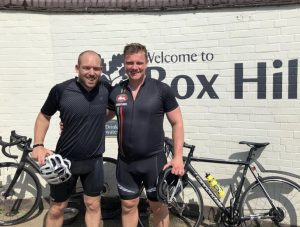 "The charity has run recent trips to Bangladesh, Uganda, Sri Lanka and Egypt where they have helped countless children – and have set themselves a target of raising £275,000 for an MRI scanner."
This is why he has decided to take on the gruelling 100 mile cycling challenge, with the aim of raising £1,000 for the cause.
On Sunday 29 July Owen, along with a few other riders supporting the same charity, will set off from London's Olympic Park and follow much of the same route that the likes of Bradley Wiggins, Lizzie Deignan and Mark Cavendish tackled during London 2012.
He will head out into the punishing Surrey hills before coming back into London for a grand finish on the Mall.
Owen added: "I have completed a few bike rides in the past but this will be by far the furthest I have cycled in one day.
"Any donations no matter how small will be greatly appreciated and will keep those legs pedalling along."
Brian Sommerlad, chairman of CLEFT and plastic surgeon, said: "I am delighted that Owen is cycling Ride London for CLEFT. I wish him well in the event and in reaching his target of raising £1,000 for the charity. This will benefit children born with clefts in many parts of the world."
DP Medical has supported CLEFT on its trips overseas, including earlier this year by providing an endoscope at a reduced price which has enabled a team in Bangladesh to investigate the palate function of patients whose speech is unsatisfactory.
We offer Owen our full support during his challenge! And you can donate to the cause here: https://uk.virginmoneygiving.com/fundraiser-display/showROFundraiserPage?pageId=927447