DP Medical's supplier, Xoran Technologies, will be demonstrating its products at the prestigious American Academy of Otolaryngology's – Head and Neck Surgery's (AAO-HNSF) annual meeting in Chicago this month.
The AAO-HNSF, which represents ear, nose, throat, head and neck physicians and surgeons across the USA, is holding its annual meeting from 10-13 September 2017 and Xoran Technologies LLC, who recently named DP Medical as a distributor for UK & Eire, will be there.
Xoran, who will be at Booth 729, will have equipment for demonstration and would welcome a visit by any UK delegates who are planning a visit.
Earlier this year, DP Medical was announced as distributors specifically for Xoran's industry-leading compact and portable xCAT and MiniCAT IQ CT Scanners,
Renowned for delivering high resolution, low dose imaging of the sinuses, temporal bones and skull base, the mobile, self-shielded xCAT scanner is ideal for use in theatres, whereas the MiniCATIQ – with its compact design – enables the user to perform CT scans at the patient's point-of-care, within an office environment.
The deal marks a step forward for DP Medical, into the ENT operating room market.
Commenting on the agreement recently, Owen Pemberton – commercial sales director at DP Medical, said: "This is a very exciting development for our organisation and cements our position as a market leader when it comes to ENT surgical procedures.
"The Xoran scanners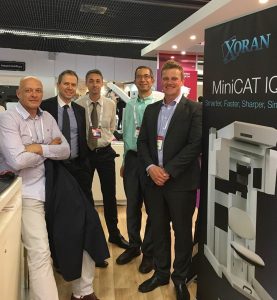 fit perfectly within our portfolio of high-quality, state-of-the-art ENT products. They're very versatile and have great mobility, as well as being very user-friendly.
"We're confident the scanners will prove popular with the UK market, which currently has extended waiting periods for patients requiring scans. Users can get superior image quality in a faster period of time, with very low radiation levels, benefiting both the patient and the professional."
Dr. David Sarment, President of Xoran Technologies LLC, said: "We selected DP Medical through a United States export process which unveiled to us a dedicated and very focused company with significant experience in distributing high-end medical equipment.
"Our companies are a great match as our unique scanners complement DP Medical's existing range of high-end devices and is able to meet many of their customers' ENT requirements – both in offices and operating rooms.
"Over the last 15 years we've installed more than 600 CT scanners domestically and internationally and, through our partnership with DP Medical, we hope to continue to grow our level of success and establish the brand in the UK and Ireland."