A leading UK healthcare supplies firm has been selected by the United Nations Office on Drugs and Crime (UNODC) to provide state-of-the-art forensic examination equipment in Egypt.
DP Medical Systems, based in Surrey, has now installed its MediScan software and HD video Colposcope in both Cairo and Alexandria to further develop the ability to record and document sexual assault and abuse in the North African country.
MediScan, developed by DP Medical, provides clinicians with a secure pathway for recording, storing and encrypting patient gynaecology examinations for analysis and archiving. The still images and video are captured in real-time and stored against the patient record for retrieval anywhere in the hospital.
The Video Colposcope is an advanced high resolution video camera with integrated high intensity LED illumination. The equipment provides a compact stand-alone solution for true video and still images in the forensic gynaecological field.
Yomna Abou Hussein, Programme Assistant at UNODC, said: "UNODC is working on a project which aims to improve the criminal justice response to cases of violence against women in Egypt. We therefore work with governmental authorities that are involved in the criminal justice system such as the Ministry of Interior, the Ministry of Justice, the Prosecution and the Egyptian Forensic Medicine Authority (FMA).
"We have worked with FMA on establishing a specialised clinic within the authority specialised in receiving female victims of violence due to the importance of forensic evidence in these types of cases. Currently there is one clinic in Cairo and another in the FMA's premises in Alexandria and each has one colposcope and MediScan software. The equipment has been very helpful to the FMA given its advanced technology that will enable the forensic practitioners to effectively collect evidence which would be later presented during the judicial process and will surely play a key role in the proceedings.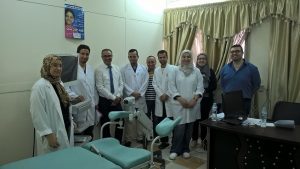 "The installation of the equipment from DP Medical went smoothly and we are looking forward to deploying another colposcope for a new clinic that will be established in a different city in Egypt soon."
Rob Hampson, from DP Medical, who travelled over to Egypt to complete both the install and staff training, said: "We were honoured to be selected by UNODC to supply our MediScan software and HD Video Colposcope to locations in Cairo and Alexandria. This is the culmination of many months of work so it is fantastic for everyone involved for the equipment to be up and running as it means this innovative technology can now be used to help those that need it. The staff were very welcoming and attentive to all aspects of the Mediscan training which, I hope will benefit many.
"The business development and outreach of the MediScan software outside of the UK is growing, we hope that the successful conclusion of this project will lead to further opportunities for DP Medical.  This is the second install on the African continent in two years, and with more foreign FME clinicians being trained in the UK each year using MediScan, I am sure that our installs abroad will be on the rise. We are already discussing future project with UNODC and hope that our relationship with them will continue to grow."