DP Medical will round out a busy month of trade show appearances with the Royal College of Speech & Language Therapy (RCSLT) and British Laryngological Association's (BLA) annual conferences this week.
The leading healthcare medical supplier will be in the exhibition hall at both conferences and welcomes all delegates to visit them and attend their product demonstrations.
The RCSLT Conference 2017 takes place at the Scottish Event Campus in Glasgow from 27-28 September and will showcase the latest innovations and research in speech and language therapy.
DP Medical will be exhibiting the XION EndoStrobe, EndoCompact and EndoPortable.
The BLA Conference will be held a day later on 29 September at the Royal Society of Medicine in London and will cover laryngological issues that affect the extremes of age. XION products will once again be showcased – with the 3D EndoStrobe and EndoCompact on display this time.
These events come after a busy month for DP Medical and its partners. XION attended the second annual ENT Masterclass Europe – the largest free ENT training platform in Europe for senior ENT surgical trainees and consultants – in Berlin from 1-2 September and demonstrated the 3D EndoStrobe as well as other endoscopic systems on their own stand.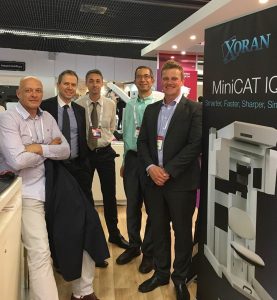 As well as this, Xoran Technologies LLC, who recently chose DP Medical to be their distributor for UK & Eire, attended the prestigious American Academy of Otolaryngology's – Head and Neck Surgery's (AAO-HNSF) annual meeting in Chicago from 10-13 September.
They exhibited equipment such as the industry-leading compact and portable xCAT and MiniCAT IQ CT Scanners, which are the specific products that DP Medical are now distributing.
Owen Pemberton, commercial director at DP Medical, said: "This has been a really exciting time for the DP Medical team as we particularly enjoy the chance to get out and meet professionals in the medical industry and to demonstrate our world-class products. We have superb partnerships with our suppliers across the industry and showcasing their state-of-the-art equipment is always an exciting venture.
"If you're attending either the RCSLT or BLA conferences then come and pay us a visit and see the cutting edge products we have to display."