Back in 2009 DP Medical saw the potential of a new Australian gynaecological product and believed it could make a real difference to patient care here in the UK.
A decision was taken to invest in the cutting-edge technology, called 'MediScan', in the hope of being able to develop its capability and offering further. Twelve years later, more than 300 MediScan units have been sold, not only across the UK but also in Europe, Africa and the UAE.
Here, Owen Pemberton, commercial director at DP Medical, takes a look at the MediScan story so far and DP Medical's exciting plans for the system in the future.
MediScan started its life in Australia under a different name and with the aim of replacing traditional smear tests used to diagnose cervical conditions. Under the guidance of Professor Albert Singer, a globally recognised pioneer of colposcopy in the UK, it evolved into MediScan where its promise was spotted by us here at DP Medical and we bought it in 2009.
Since then, and with a lot of hard work focussed on the knowledge and expertise our team has in the gynaecological market, MediScan has developed into the essential workstation for every gynaecology practitioner.
Specifications
The system, available in HD format, now provides clinicians with a safe and secure pathway for recording, storing and encrypting patient gynaecology examinations for analysis and archiving.
It offers a compact standalone solution for true video and still images that are captured in real-time and stored against the patient record for retrieval anywhere across a clinical setting. The Video Colposcope element is an advanced high resolution video camera with integrated high intensity LED illumination.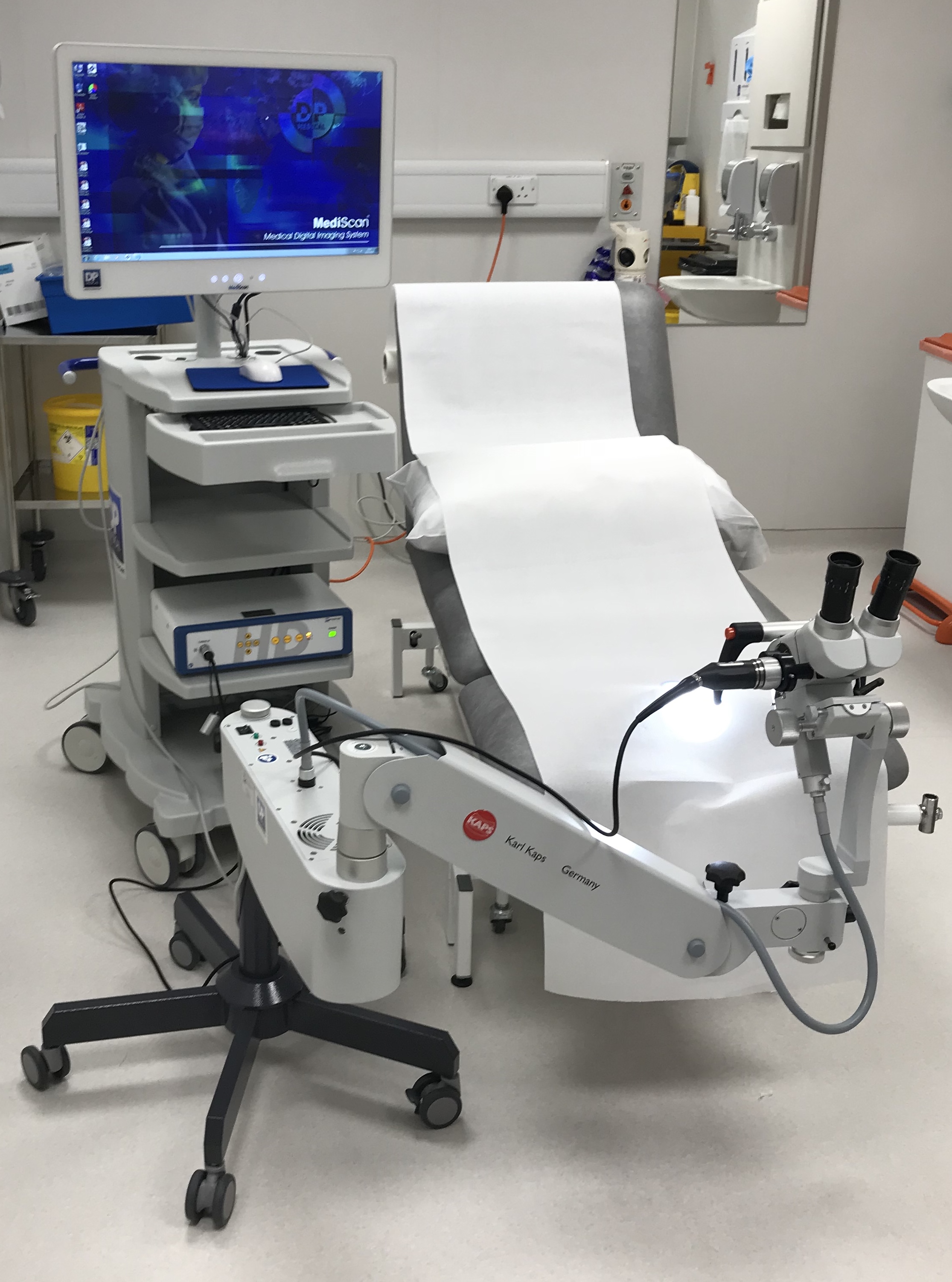 With a simple-to-operate user interface, including touch screen technology and a question-and-answer based approach to data entry, installations are tailored to suit the needs of the clinic, from a single standalone software license through to a fully networked, integrated theatre and outpatient solution.
These elements have been developed by our in-house software team adapting to the needs of our customers so we are offering a product that no one else can with service and maintenance levels that are also second to none.
Customer base
Over the years, we have installed MediScan units in many hospitals throughout the UK, including both the Royal Free and The Whittington Hospital in London.
It is also now used in over half of the main coloscopy centres in Ireland by the Irish National Cervical Screening Service and, following a recent contract renewal, every coloscopy unit in Wales has a MediScan through the Cervical Screening Wales programme.
In recent times, MediScan has also begun to play an important part in the services provided for adults and children who have experienced rape, sexual assault or gender-based violence, including victims of historic sexual abuse.
The equipment allows staff to record, store and encrypt forensic medical examinations for analysis, archiving and legal purposes, and so has become an essential tool in helping staff provide the best possible care for the people who need their support.
The system is used for this purpose in locations such as the St Mary's Sexual Assault Referral Centre in Manchester and, working alongside the Scottish Government, in 16 centres across Scotland – including the recently opened Forth Valley facility – a blueprint for Health Boards across Scotland, operated by the NHS in partnership with Police Scotland and the voluntary sector.
It's a real achievement for everyone involved to see MediScan up and running in these areas, after many months of hard work, as it means this innovative technology is being used where it is needed and making a real difference.
Overseas market
The traction for MediScan has continued to grow as we have looked to introduce it further afield and into the international market.
MediScan was selected by the United Nations Office on Drugs and Crime (UNODC) in both Cairo and Alexandria in order to further develop Egypt's ability to record and document sexual assault and abuse. Similarly, it has also been installed in RAK Police GHQ, Ras Al Khaimah to help officials in the UAE.
We have also joined forces with Atmos France to take the product over the channel and, to aid this process, the system has been translated and now benefits from a French language data set option.
Hopital Nord in Marseille was one of the first French hospitals to have the system installed. There, we worked closely with Prof Xavier Carcopino, who was really impressed by MediScan's ability to be adapted in order to meet the needs of individual clinicians, as well as its performance and how it helped him to get a real understanding of a patient's problem so he could decide on the best treatment plan.
MediScan now benefits around 100-150 of Prof Carcopino's patients a month.
The future
As the owner and lead developer of MediScan, the specialist support we at DP Medical can offer to our customers gives us a great advantage, as we can continue to be flexible and enhance the product based on real time feedback.
Its reliability and uncompromised performance, as well as around-the-clock support from the DP Medical software and servicing team, has reinforced MediScan's reputation as a market leader and its compatibility with the latest Microsoft technology future-proofs it, moving forward.
Looking ahead, we want to continue to improve the MediScan interface and keep the technology at the forefront of the marketplace, cementing our presence in the UK but also developing international sales – both direct to customers and also, through partners.
MediScan has enjoyed a large market share within the UK and Ireland for the purpose of clinical and forensic requirements so it is really promising for us to see there are other opportunities for us to continue with our growth plans and share the clear clinical benefits of MediScan across the globe.