We are so proud of our DP Medical colleague and friend Frances Bridgewater who recently donned her walking shoes in aid of a fantastic cancer charity. Here, in our latest blog, Frances, talks about her Race for Life and how much she enjoyed the experience.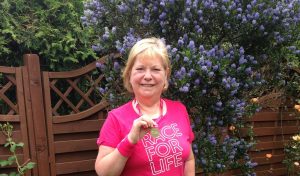 "As soon as it was mentioned to me and my colleagues that DP Medical was looking to do some fundraising as part of the organisation's 30th anniversary celebrations, I knew I wanted to help.
"The next step was to find something that I thought I could realistically achieve! I was keen to do something for a cancer charity as it is a cause very close to my family's heart and when I saw that Cancer Research UK was holding a 10k Race for Life in Stamford, near where I  live, it was the perfect opportunity.
"I have to admit that I am not a runner so, as a very keen walker, I knew from the outset that I would aim to walk the course in as quick a time as I possibly could.
"It was an absolutely glorious setting and the atmosphere was incredible. Over 1,000 women joined together to take part and it was a wonderful experience just to be involved in the occasion. There was a huge amount of support around the course and you really felt everyone had come together to achieve their own personal goals, whatever they may have been.
"I kept an eye on how fast I completed the first kilometre and aimed to maintain that speed for the full race. I ended up finishing in 1hr 40 minutes which I was really pleased with. But the icing on the cake was to have raised £265 which goes directly to the charity to help in the fight against cancer which is such a terrible disease.
"It was a great feeling to take part and give something back and I would particularly like to thank everyone at DP Medical for all their support and donations."