We spend a lot of our time on the road attending important industry events and meeting customers old and new to showcase the very best of what DP Medical has to offer. And this month has been no exception! Here, in our latest blog, Rob Hampson, our medical division's Northern England & Scotland Area Manager, gives us an insight into his recent visit to the British Laryngological Association's (BLA) Cutting Edge Conference 2019 in Edinburgh.
The BLA Cutting Edge Conference is always one of the highlights of our events calendar and it was fantastic that this year it was taking place at the Royal College of Surgeons of Edinburgh which is such a historic and iconic venue.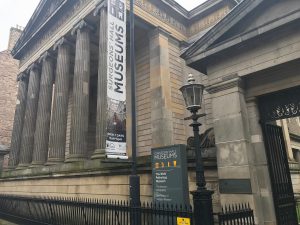 We attend every year as it's always a very successful meeting and gives us a great opportunity to meet new and current customers. It's one of the only events where you can find Speech & Language Therapists and ENT Consultants all in one place!
Talking Laryngology
But why is Laryngology so important? The specialism continues to grow as the most exciting branch of Otorhinolaryngology-Head and Neck surgery. Best possible speaking, eating and breathing are so fundamental to the aspirations of people everywhere, that there has never been a greater demand for laryngologists.
The Cutting Edge Conference provides a forum for the international laryngology community to come together and discuss all the latest innovations and developments.
To advance the cause of those with breathing problems, the conference presented the finest breakthrough science, techniques and stunning new paradigms in airway stenosis. For those with speech problems, in-office pathways to rapidly return people to the lives they wish to lead were offered, as well as an in-depth look at the latest developments in spasmodic dysphonia care. For those with swallowing problems, the conference offered technology and working practices that can restore them to society.
Product showcase
It was amazing to be part of a really well set event and we had various XION systems on show to demonstrate how our products can help clinicians and patients alike. This included our Endostrob EL system which can be used for Video Endoscopies and also Stroboscopy examination, along with our Endostrob PL system which comes complete with XION's HD video scope. Both provide exceptional image quality and the feedback so far has been excellent.
We always enjoy the chance to get out and meet professionals in the medical industry and to demonstrate our world-class products and the BLA Cutting Edge Conference was no different. Thanks BLA, see you next year!