In our latest Q&A, DP Medical's UK dental business manager, Darren Young gives us the lowdown on the upcoming BDIA Dental Showcase – a major event in the dental events calendar which is taking place this week.
Tell us more about the BDIA Dental Showcase?
The BDIA Dental Showcase is one of the main industry events for the dental profession – and one of the largest. It's held every year and is a chance for the many suppliers, manufacturers, service providers and associations across dentistry to get together under one roof.
Whether you're looking for a new suite of dental chairs or a full practice refit, a new set of handpieces or to stock up on consumables, marketing advice or to learn how to buy your next practice, the BDIA Dental Showcase has it all!
It's one of the highlights of our events calendar and all takes place from 17-19 October 2019 at the NEC in Birmingham.
In terms of these kind of industry events, what makes BDIA stand out?
It's a fantastic, innovative event to be part of and we're really looking forward to showcasing our full range of Global A series microscopes. It also tends to be recognised as the trade show where people come with the intention of making a purchase which is great for us!
Who do you hope to see there?
We hope to meet with key opinion leaders, practice owners, specialists, decision makers and influencers within the world of dentistry. We love to get out and about meeting customers, old and new so it's the perfect fit for us.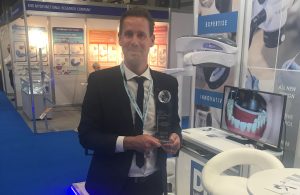 What do you enjoy most about attending BDIA?
I enjoy touching base with customers who have previously purchased from us and, of course, make new sales wherever we can. It's good to be able to showcase what we do as we know we deliver on our promises and are really proud of our customer service.
What products will you have on show this year?
We will be displaying our Global A series Microscopes which are widely considered to be the leading microscope on the market. With improved diagnosis, treatment and predictability, they offer far superior magnification and significantly enhance operator posture.
In addition, we'll have our camera systems and microsurgeons chair for delegates to see.
What makes DP Medical stand out from the crowd?
I've already mentioned our outstanding customer service and commitment to our clients which is second to none. But we are also experts in the dental field. We've recently been involved in a really exciting project installing dental microscopes for a brand-new cutting-edge dental hospital in London, as well as an accompanying training facility. We know how important it is that we provide the best possible equipment and service to dental professionals so in turn they can deliver the best possible treatment and care to their patients. Earlier this year we won 'Distributor of the Year' from our partner Global Surgical, so we know we are good at what we do!
Where can we find DP Medical at BDIA?
You can find us on stand H42 so make sure you come and say hello!
To find out more about the DP Medical Systems dentistry range, please visit: www.dpmedicalsys.com/dental/