One of the newest additions to the DP Medical team has just come back from some important training in Germany. Jonathan Peters, area manager for south Wales and southwest England, visited our trusted partner Karl Kaps GmbH & Co. which specialises in the development and manufacture of modern surgical and diagnostic microscopes. Here, in our latest blog, Jonathan gives us the lowdown on his trip.
Obviously, when starting a new job it's always a steep learning curve at the beginning so I was really excited when I found out that I would be visiting Germany to learn as much as possible about our KAPS range. The high-end products are used all over the world in ENT, ophthalmology, microsurgery, endodontics and gynaecology and, as a company, we are extremely proud to supply them to our customers. We get excellent feedback on the range so I really wanted to find out more.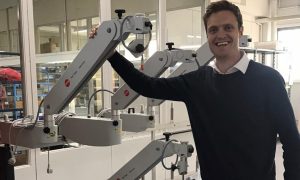 Myself and DP Medical's commercial director, Owen Pemberton, flew into Frankfurt airport and then took a 45 min drive to stay in Wetzlar where KAPS has its head office.
We arrived late in the afternoon and were taken on a fascinating tour around Wetzlar where we learnt about the history of the city and how famous the optic industry is there.
The next day, I underwent product training with Owen and Mark Reinhard, international sales manager at KAPS, where I learnt in more detail about the KAPS ENT and colposcopy product ranges. During the training we took a tour of the factory and found out how valuable everyone's role is and how they produce the technology.
This was really eye opening for me. I think it's important for sales teams to understand the care and attention to detail that goes into making products and the factory tour helped me understand how much of a team effort it is to get a product to market and, subsequently, enable medical professionals to carry out their day-to-day work.
Mark was excellent at giving us an understanding at how important every component is in the scopes they produce and how this affects the quality of the product. The manufacturing process was great to see at first hand and it was amazing to get a glimpse into how the engineers work and the attention to detail that goes into every product.
I'd like to thank Mark for taking the time out of his busy schedule to meet with me. By having the chance to take part in a personalised and tailored training in a one to one environment, showed that both DP and KAPS value myself as an employee and the contributions I can make moving forward in my role. This input into my development has definitely helped motivate me to do my very best for both companies.
For more information about our KAPS range, please email: sales@dpmedicalsys.com