DP Medical has helped make sure a team of doctors were looking the part when they went on a recent golf tour.
A group of GPs and ENT doctors and consultants from Berkshire went to Turkey on the golf tour and DP Medical offered support, in conjunction with Halbro Sportswear, by providing some top quality shirts and hats for the players to wear.
Mr Rogan Corbridge, consultant ENT surgeon who went on the trip, said: "This year we once again went to Turkey and stayed at the Maxx Royal, playing golf at the Montgomery where the Turkish Open is being held now and the Carya and Lykia links.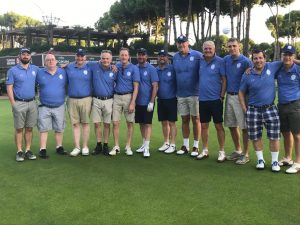 "We had another great tour despite the Thomas Cook collapse and a last minute rearrangement of our flights! It's a great opportunity for us all to take a step out of clinical practice and invest in a bit of fellowship. We are extremely grateful to DP Medical for their continued and generous sponsorship for the shirts and hats."
Owen Pemberton, commercial director at DP Medical, said: "We were really pleased to be able to provide sponsorship for this trip. These doctors do an amazing job everyday and we wanted to be able show our thanks for the work they do by providing these tops and hats for them to wear. We're pleased they all had an enjoyable time."