DP Medical Systems Ltd, the leading medical supplies company, has announced it has launched a new company dedicated to the Irish market.
DP Medical Systems Ireland Ltd, which is based in Dublin, provides ENT, gynaecology and forensic medical equipment to the HSE and private health centres.
The UK firm, which has its head office in Chessington, Surrey and has also recently opened a second office in Stockport, Greater Manchester, enjoyed a record high turnover in 2018 as well as recording double digit growth for the third consecutive year. Each division of the company; dental, hospital and service, has grown substantially and the business has exciting future plans including growing their existing market share within Ireland.
DP Medical Ireland, which has recently won contracts at Mater Hospital, Dublin and Mayo Hospital in Castlebar, will be led by DP Medical commercial director, Owen Pemberton, with Thomas Cryan, who is already permanently based in Ireland, as sales and service representative.
Owen Pemberton, co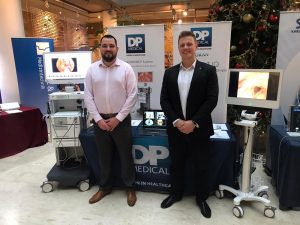 mmercial director of DP Medical, said: "Having served our Irish customer base for a number of years with regular flights back and forth from London, I have seen the potential first-hand and we really felt it was a market we wanted to invest in further.
"By establishing an Irish company, with Thomas based in Dublin and covering both Northern Ireland and the Republic of Ireland, we are ensuring we continue to enhance our sales and service coverage to our Irish customer base and seek out further opportunities so we can continue to grow and develop.
"This is a really exciting time for us as we look to deliver our ambitious growth strategy and establish ourselves as a leading healthcare supplies company in the UK, Ireland and beyond."
Thomas Cryan said: "Here at DP Medical, we offer top quality medical equipment and have a real enthusiasm and passion for providing the highest levels of customer care.
"I am excited about our new venture and looking forward to improving the customer experience within Ireland, offering greater levels of support as well as building valued relationships with our clients, both old and new. We really feel it is the right time to invest and focus our commitments further in Ireland."
For further information please email sales@dpmedicalsys.com or visit www.dpmedicalsys.com.