Leading medical supplier DP Medical has joined forces with the Ear Academy to deliver some brand new ear care training to audiologists from across the UK.
The aural microsuction training course was held at Charing Cross NHS Trust in Greater London, which is associated with the Imperial College.  The two-day course covered an ample amount of theory around aural care as well as practical experience with 102 ears with multiple otological conditions available for the trainees to observe and have hands on involvement with.
Dr Mohammed Al-khateeb, consultant audiologist and Ear Care Academy trainer, said: "The courses were an enormous success and we got some great feedback from those who took part particularly around the amount of hands on practice they had on real ears, the theory elements covered, the level of experience the trainers had and the quality of aural care products from DP Medical that were used.
"DP Medical added great value to the training course by the level of representation and technical support they had over both  days especially the quality and quantity of microscopes with LCD screens supplied for training and educational purposes. Trainees were really impressed with the SOMRON microscopes especially from those who used other microscope brands in the past. The SOMRON microscopes are cost effective with high quality magnifications, robust handling and manoeuvres and are spot on and fit for purpose if you are planning to set up aural care clinics."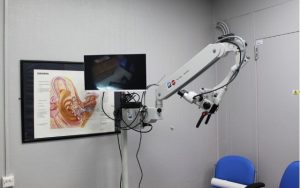 Owen Pemberton, commercial director at DP Medical, said: "We were thrilled to partner with Ear Care Academy for their first event.  We found the content and level of interaction with the delegates first class – we are very much looking forward to March's event."
The next aural microsuction training course is on the 2nd and 3rd of March 2019. Spaces are limited so to book your place please visit www.earcareacademy.co.uk. If you are a cooperate and would like a bespoke arrangement for your staff, please email info@earcareacademy.co.uk and a course organiser will be in touch to discuss.