World-leading scientists at London's newest state-of-the-art research centre are furthering their studies into how brain circuits process information – and cutting edge scientific equipment provided by DP Medical will help them lead the way.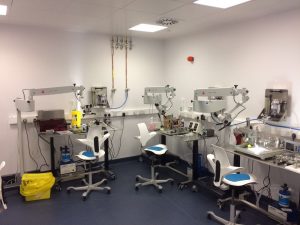 The Sainsbury Wellcome Centre for Neural Circuits and Behaviour (SWC), located within University College London, offers an unparalleled research environment and its laboratories have recently been provided with 13 SOM 62 microscopes to help with their innovative work.
Owen Pemberton, DP Medical's commercial director said: "We were delighted to have installed 13 SOM 62 microscopes at the SWC laboratories from Karl Kaps GmbH, our supplier in Germany.
"Typically the microscopes are made for ENT use but they make perfect affordable options for laboratories who are looking for quality optics. We are really looking forward to hearing about how scientists at the new research centre are putting them to good use and learning more about the ground breaking research they are developing."
The SOM 62 microscopes are comprised of time-tested, nearly indestructible mechanical parts with outstanding optics and powerful illumination.
Exact, smooth positioning ensures ergonomic, fatigue-free functioning in everyday practice, with crystal-clear three-dimensional imaging characterised by great depth of focus and extraordinary colour brilliance. The versatile machines have different mounting systems making installation possible on walls, ceilings, examination units or roll-able floor stands, so an optimal solution is available for every kind of spatial requirement.
The Sainsbury Wellcome Centre opened in May 2016 and brings together world-leading scientists to investigate how brain circuits process information to create the neural representations that guide behaviour.