DP Medical has installed some vital endoscopy equipment for use by the speech and language therapy (SLT) team at St Mary's Hospital in London which is managed by Imperial College Healthcare NHS Trust.
The XION EndoFLEX, a mobile endoscopy unit for ENT, provides innovative and convenient technology for optimal diagnostics and therapeutics. The new digital device enables the processing and archiving of picture, video and many diverse digital data, being constantly updatable.
The stack unit can serve as a standalone or be integrated into the existing office facilities. It is also easily manoeuvrable making it ideal for swallowing diagnostics applications anywhere in the hospital.
The SLT team were over the moon to receive the equipment which will have an immediate and significant impact on all aspects of the service improving patient care, efficient service delivery, staff learning and development, MDT working, quality improvement and research projects.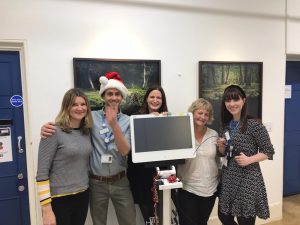 Lee Bolton, lead speech and language therapist at St Mary's Hospital, said: "We were very excited to take receipt of this long-awaited, brand new FEES system for providing endoscopic swallowing evaluations to patients with dysphagia. This replaces the current equipment which was very old and no longer fit for purpose. The new equipment purchase was kept as a complete surprise with delivery timed to take place just before Christmas, so there were smiles all round when it was delivered to the office and the team received their training."
Owen Pemberton, commercial director for DP Medical, said: "We were so pleased to bring some early festive cheer and drop off the XION equipment to the team at St Mary's! They were delighted to receive it and enjoyed the training so they are ready to go which will only be of benefit to their many ENT patients."